IvCDesigns_ICCIDC : Interior Design * Lighting Design * Project Management * Graphics + Multi Media

A one-stop- shop Design & Consulting firm. Change the way you see lighting and interiors with our creative and innovative designs.
Modern Condo Made Personal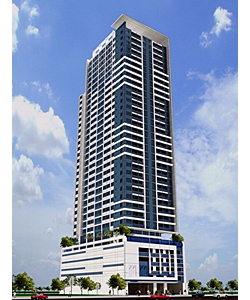 MANILA, Philippines – As crash pads for weary city folk, condominiums are expected to take on the look and feel of a modern haven. But as developers for the discerning Makati crowd are finding out, creating a line-up of condo units to woo their market swoon is a difficult task to accomplish.
One of the few to have hurdled this design challenge in style is Cactus Realty Corp. Its latest condominium project, One Pacific Place, offers units perfect for single yuppies, early nest couples, and families with kids residing in the prestigious address of Salcedo Village.
"The units of One Pacific Place were conceptualized through scrutinized problem-solving," says Ivy Crisostomo, managing director of About Designs Inc., the interior design group for One Pacific Place. "We asked ourselves: 'Who are the future residents? What are they into? What would they need?' And from there, we crafted units to suit each urban lifestyle."
Swanky, serene studio
Young executives living the bachelor dream will be drawn to the swanky, serene studio units of One Pacific Place, according to Crisostomo.
Stylishly minimalist, the studio units exude a modern vibe seen in New York apartments. The use of clear glass on tables and mirrored walls lend an airy dimension to the room, while a movable dining area opens up the space for group activities like partner yoga exercises or a game of Twister during weekend parties.
"We also used a color palette of whites, grays and touches of blue," adds Crisostomo. "These hues lend a cool and relaxed atmosphere to the room. The idea is to put the mind and body at ease through uncluttered interiors, and bring relief to the stressed out singles of Makati."
Contemporary Love Nest
Meanwhile, couples planning to settle down and start a life together can find their contemporary love nest among the 1-bedroom units of One Pacific Place.
http://www.philstar.com/real-estate/449779/modern-condo-made-personal